Software
license
agreement
Software license agreement
License:
The software is distributed as Freeware. You may use it on any number of computers for as long as you like. The software is NOT Public Domain however. We allow a free distribution of the software, but we retain the ownership and copyright of it and of its source code in their entirety. You may use and/or distribute the software only under the following conditions:
You may not modify the program or documentation files in any way
You must keep all the files with which the application was distributed
You may not decompile or otherwise reverse-engineer the product
You may not sell the software or charge a distribution fee, except for recovering shipping
You understand and comply with this license agreement as well as with the disclaimer of warranty and the limitation of liability printed below
The software may be bundled and distributed together with other software products but the same conditions apply. You do not need to seek our permission first but you should notify our office about it and tell us about other software that this application will be or has been bundled with. Disclaimer of warranty:
The software and related documentation are provided "as is", without any warranty. Madar disclaims all warranties, expressed or implied, including, but not limited to, the implied warranties of design, merchantability, fitness for a particular purpose. Madar does not warrant that the functions contained in the software or documentation will meet your requirements, or that the operation of the software will be uninterrupted, error-free or complete, or that defects in the software or documentation will be corrected.
Questions and complaints could be mailed to biuro@invoicer.pl
Invoicer
- program or portal?
Choose a suitable solution to the current working model.

Invoicer Madar 4.0 download
Program installed on personal computers. FREE OF CHARGE

Invoicer Mobile download
The program installed on the server (the browser) FREE OF CHARGE

invoicer.biz login / registration
Portal to work without installing the Internet. FREE OF CHARGE
At any time data from one solution to another.
Portal
Invoicer
Manage the company

by internet


completly free


without installation


without invoices limit


without documents limit

How does the portal:
see demo
Extract from the Rules
Art.3.3. Operator nie świadczy usług prawnych oraz doradztwa podatkowego, ani usługowego prowadzenia ksiąg.
Check
our other solutions
Madar 7
Online ERP System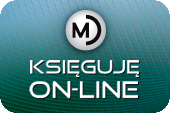 Madar 7 is Poland's largest ERP system, built in double technology - giving a unique possibility of simultaneous work remotely over the internet and locally.
Includes a fully interconnected modules: ERP, warehouse, accounting, payroll, personnel, office, crm.